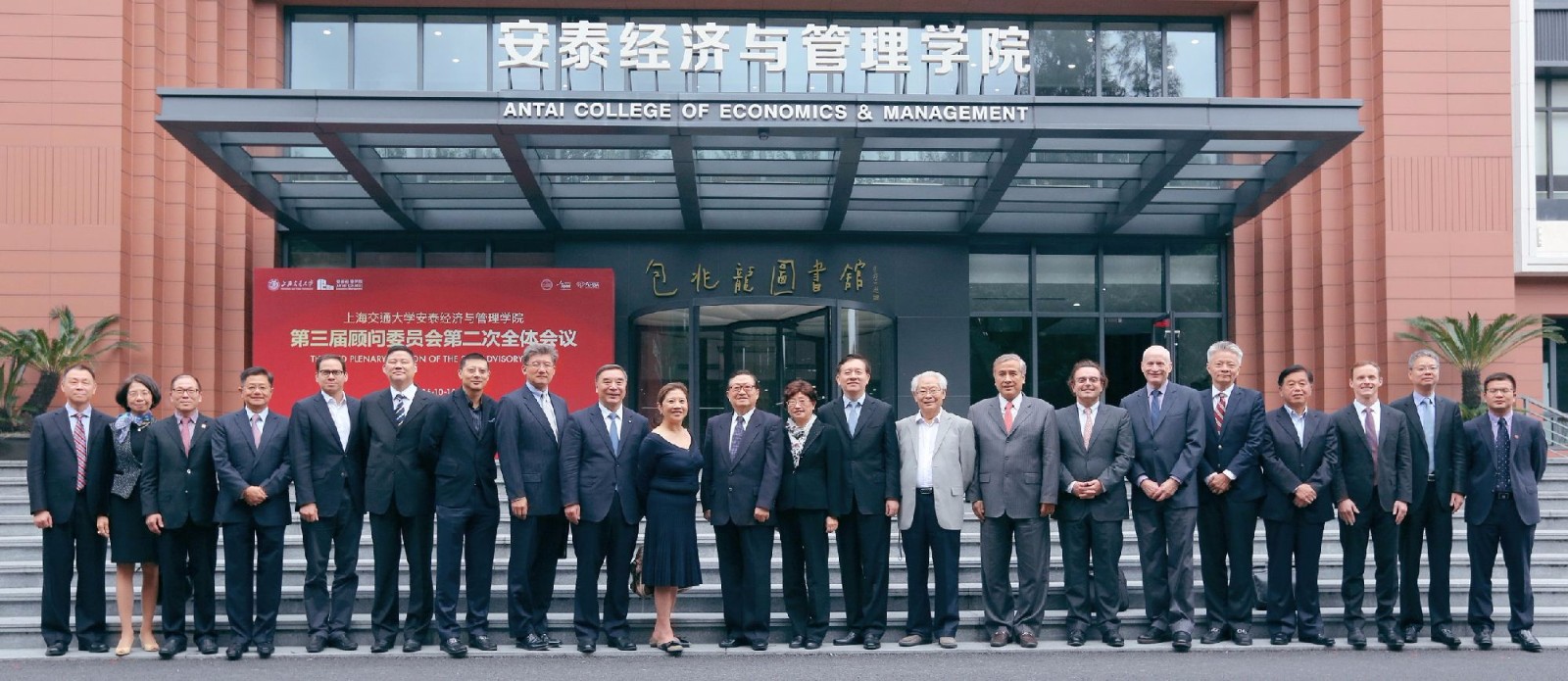 Advisory Board of Antai College of Economics & Management,
Shanghai Jiao Tong University
Over the years, we have been blessed with unwavering support by all stakeholders, from students to faculty members, from business partners to general public, and from the local community to our international friends.
In 1991, the college's Advisory Board was established and it has assembled a group of renowned scholars, entrepreneurs as well as Chinese senior government officers and social celebrity, who bring about their unique knowledge and insight for the college's development.
We hold an annual Advisory Board meeting to discuss and provide strategic guidance for the college's development on academic research, talent cultivation and curricula design.
In 2015, Mr. Hua jianmin, Vice Chairman of the Standing Committee of the eleventh National People's Congress was nominated as the chairman of the 3rd ACEM Advisory Board.
Name List of the 3rd ACEM Advisory Board
Board Chairman
Hua Jianmin
Vice Chairman, the 11th Standing Committee of the National People's Congress
Former State Councilor, the State Council
Former Director, the Central Financial and Economic Leading Group Office of the People's Republic of China
Board Vice-Chairman
Jiang Sixian
Deputy Chairman, the Shanghai Municipal People's Congress
Chairman, Shanghai Jiao Tong University Council
Board Members
Achal Agarwal
President, Asia Pacific Region, Kimberly-Clark Corporation
Angela Chao
Deputy Chairman, Foremost Group
Cheng Chi Kong
Executive Vice Chairman, Board of Directors of New World Development Company Limited
Eric Cornuel
Director General & CEO, EFMD
Scott DeRue
Dean, Ross School of Business, University of Michigan
Gao Guofu
Chairman,Shanghai Pudong Development Bank Co., Ltd.
Guo Chongqing
Academician, Chinese Academy of Engineering
Hu Yanzhao
Deputy Director, Shanghai Municipal People's Congress
Honorary Chairman, Shanghai Association of Employment Promotion
Jiang Jianqing
Chairman, Sino-CEEF Holding Company
Former Chairman, Industrial and Commercial Bank of China
Gong Li
Advanced Leadership Fellow, Harvard University
Former Greater China Chairman, Accenture
Li Zhiming
Chairman, Sinopharm Group Co. Ltd.
Lui Wai Yu
Executive Director, K.Wah International Holdings Limited and Galaxy Entertainment Group
Member, the Chinese People's Political Consultative Conference Shanghai Committee
Ma Weihua
Chairman, National Fund for Technology Transfer and Commercialization
Former President, Bank of Merchants
Ren Zhonglun
Chairman, Shanghai Film Group
Shen Nanpeng
Founding & Managing Partner, Sequoia Capital
Edward Snyder
Dean, School of Management, Yale University
Philip Pao Sohmen
CEO, World-Wide Education Group Ltd
Co-Founder and Deputy Chairman, YK Pao School
Song Zhiping
Chairman, China National Building Materials Group Corporation
Sun Qin
Former Chairman, China National Nuclear Corporation
Shane Tedjarati
President & CEO, Honeywell Global High Growth Regions
Wang Xinkui
Former Vice-Chairman, All-China Federation of Industry and Commerce(ACFIC)
Standing Committee Member, the Twelfth CPPCC National Committee
Wang Yongjian
Chairman, Shenzhen Investment Holding Co., Ltd.
Wang Zhan
Chairman, Shanghai Federation of Social Science Associations
Former President, Shanghai Academy of Social Science
Wu Qidi
Director, Department of Management Science, National Natural Science Foundation of China
Chairman, China National MBA Education Supervisory Committee
Yan Xuan
Partner, Squire Patton Boggs
Former President, Greater China for Nielson
Margie Yang
Chairman, Esquel Group
Yang Yuanqing
Chairman & CEO, Lenovo Group Limited
Bernard Yeung
Dean, NUS Business School
Zhang Xiang
Former Vice Minister, Ministry of Foreign Trade and Economic Cooperation
Former Dean, Antai College of Economics and Management
Zhou Jie
Chairman, Haitong Securities Co., Ltd.
* The list is sorted according to the first letters of the surnames.